11 Must-Have Capabilities for Remote Work Success
With JobKeeper payments expected to end in just over six months, it won't be long until the real winners and losers of the mass transition to remote work are known.
There is no denying it – how we work has changed. Once seen as a nice-to-have option for start-ups and tech companies, remote work is now critical for organisational sustainability into 2021.
It is not enough just to have the option to work remotely. If you want your team and your organisation to be part of the winners circle in 2021, there are critical capabilities you will need to develop in employees and leaders.
Realising the benefits of remote work
In a recent webinar, panellists Blake Redding, Lisa Paton and Joshua Shingles looked at the impacts remote work is having on employee well-being and behaviour. (If you missed the webinar, the key insights can be downloaded here).
Critically, we learned the benefits of working from home are more likely to be realised when remote work is:
Voluntary – employees have a choice to work remotely.
Suitable – the role is genuinely able to be performed remotely.
Planned – steps taken to implement (workspace and capability).
Maintained – mindfully and sustainably managed to reduce unfair experiences.
Planned capability to maximise remote work success
Being at the forefront of innovative and bespoke leadership development programs, we are constantly talking with key leaders across a variety of industries to determine what they need to maximise success in their teams.
From the conversations with industry leaders and from our deep dive into pre-COVID scientific research on remote work, we have identified the critical capabilities that you need to put on your radar for internal development.
11 Must have capabilities...
Remote worker capabilities
Developing the following capabilities in your employees will help to minimise the risks associated with remote work, while maximising the benefits.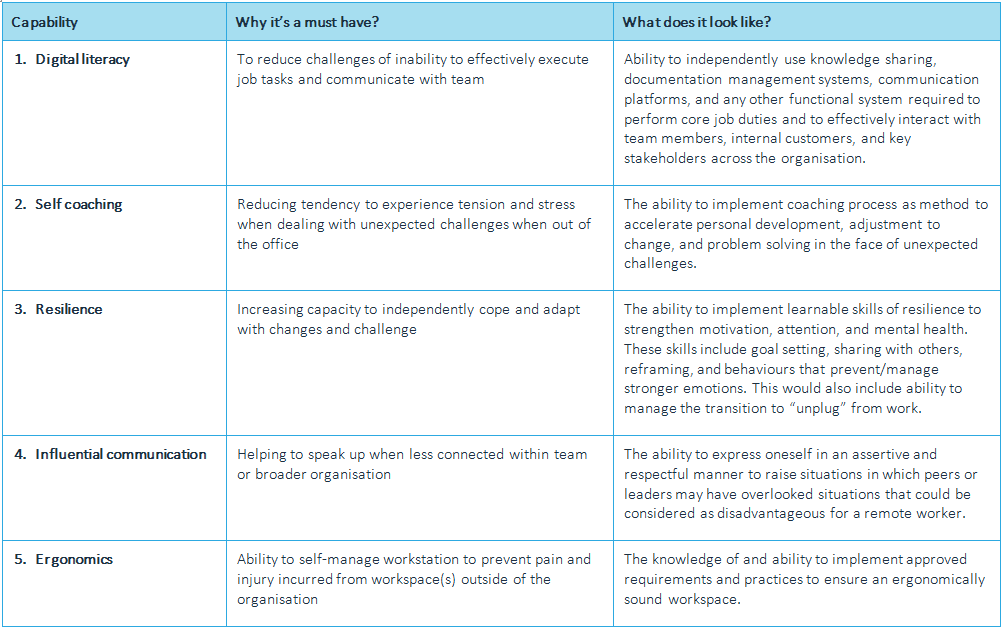 Remote leader capabilities
Developing the following capabilities in your leaders will help to maximise the benefits of remote work and support team culture.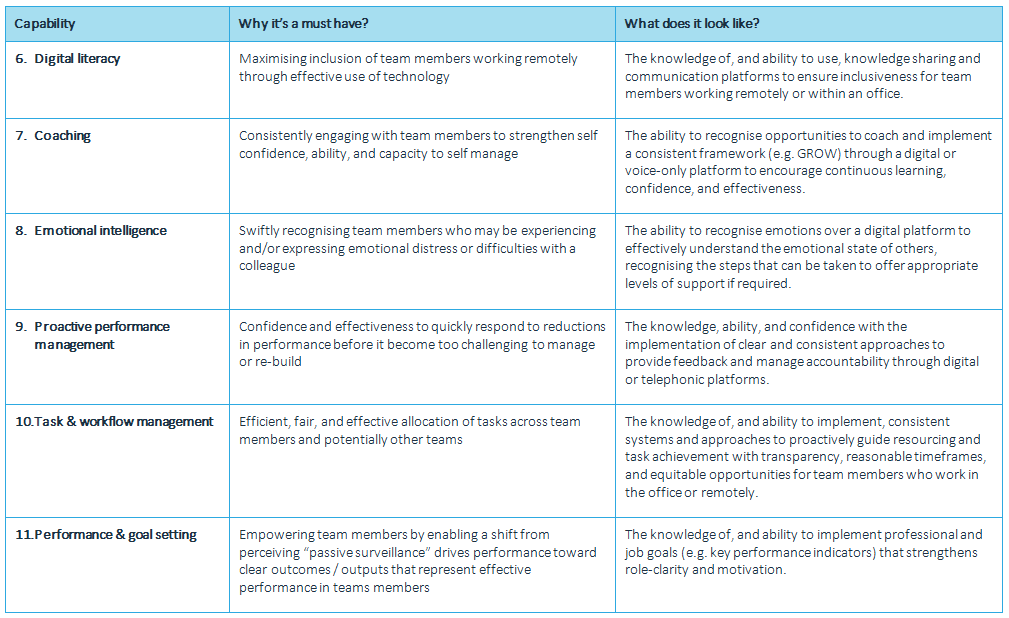 From capability to culture
Developing these capabilities in both workers and leaders will help organisations realise the benefits of remote work and minimise potential risks by helping leaders to have the capability to connect and engage with remote working teams and individuals.  The impact of team culture on capability development, expression of new capabilities and adoption of changes goes well beyond working from home and is impacting businesses around the globe and the lives of people in teams which has inspired our next Wellness Webinar.
Join our Wellness Webinar | 16 September at 11am (AEST)
If building team culture is something that is on your radar, we encourage you to attend our next Wellness Webinar scheduled for Wednesday 16 September 11:00 to 12:00 (AEST). Register your interest here.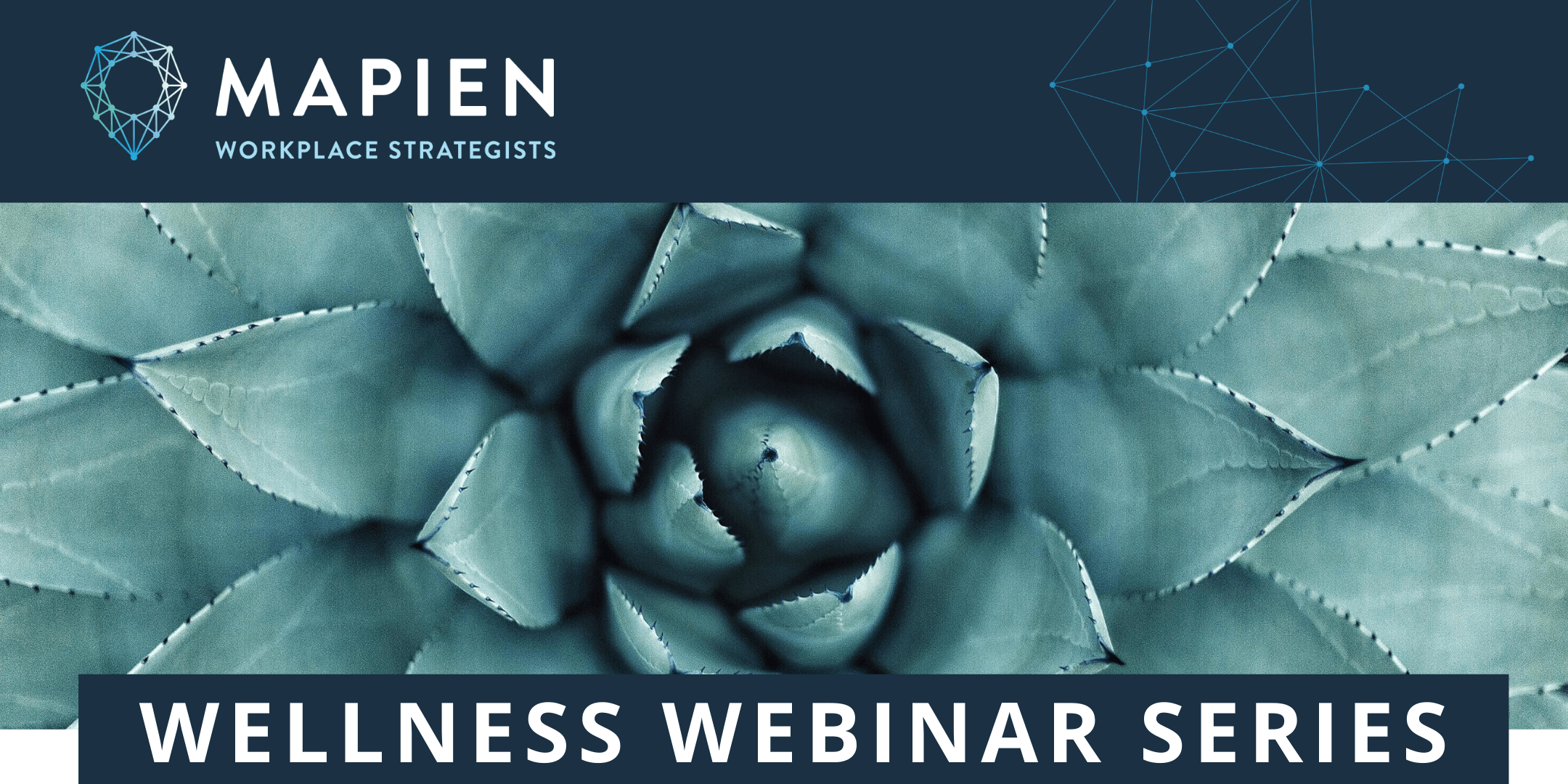 Connect with us today at hello@mapien.com.au