Navigating your future of work
For any organisation who had employees forced to work from home in response to COVID-19, finding a way to frame our journey is a powerful way to align our people with a clear sense of direction.  Through research into global trends and our work with clients, we have found a relatable way to unpack the journey we have been on and the path ahead: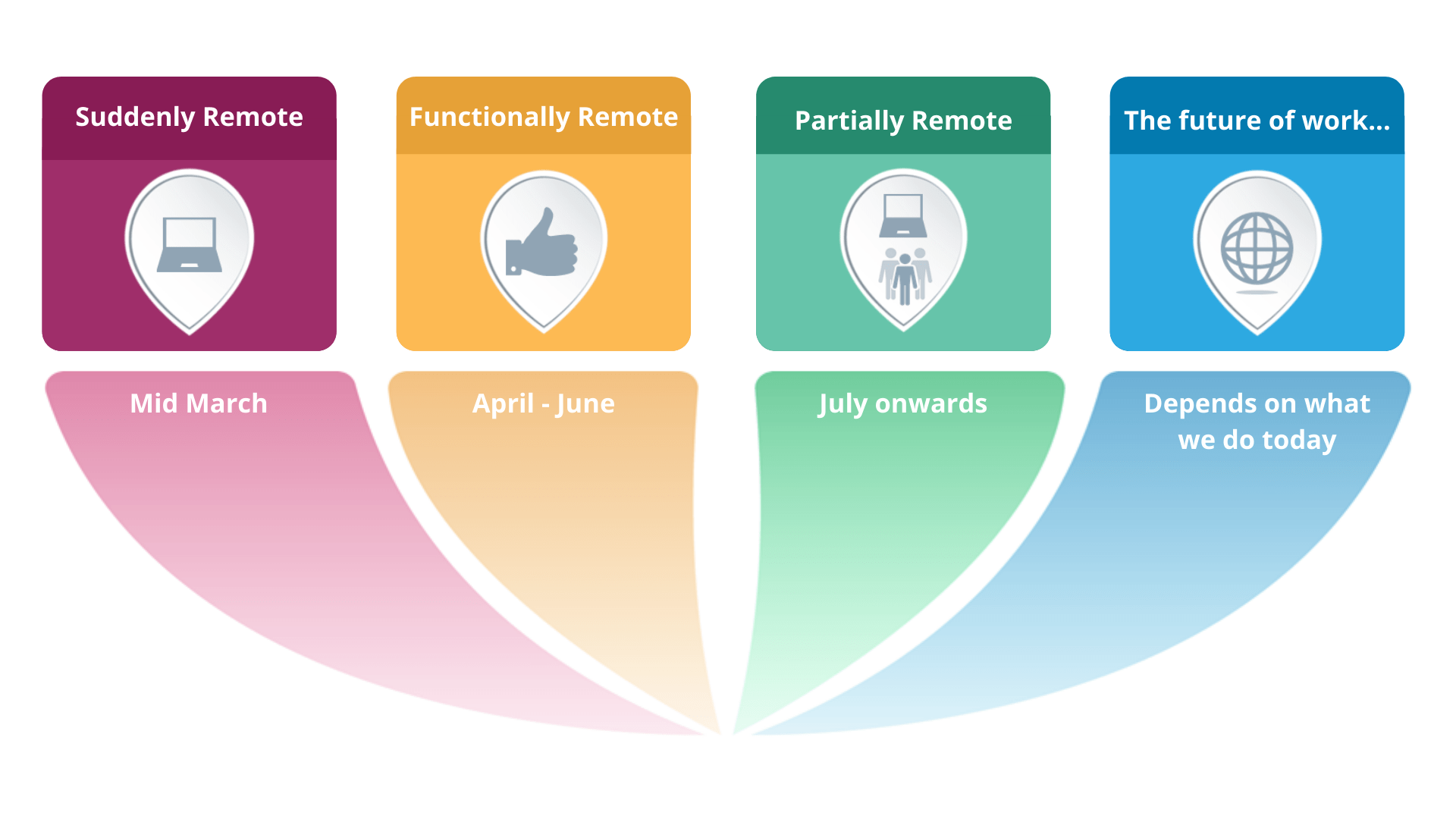 Although our timing may look different, if your organisation had the opportunity to maintain operations through remotely working from home, our human experiences through these phases is likely to be quite similar.
Suddenly remote: Scott Morrison announces isolation and all non essential workers required to work from home.  Our workplace, economy, and workforce shifted overnight and many of us experienced the challenge of doing the same thing in the office but from home.  This was a bit clunky, lonely and tiring.
Functionally remote: Massively variable based on our type of work, culture, and business operations, but represents the adaptations we started to implement to improve our effectiveness and efficiency of work (possibly with a hint of homeschool, caring for loved ones, and/or lots of virtual catchups to achieve a sense of connection).
Partially remote: Many of us are in the door already or on the doorstep of this shift, planning a return to the office in the safest and most efficient way possible.  Some of us are excited, optimistic, and looking forward to the shift, finding the capacity to prioritise a visible culture re-focus and reset performance standards.  However, many of us may also be experiencing the toughest workload and challenges in our working lives, whilst feverishly not missing any end of financial year deadlines.
Our future of work: Some of us have the capacity, people, or teams who are exploring this as we speak, appreciating the rapid boost toward a more digitalised workplace and using this insight to inform decision making and planning toward partially remote.
The future we need
I appreciate as much as any business owner, leader, and team member that the currency of time is as scarce as we've ever experienced. Although we can't create more time today, an extremely valuable investment we can make at a team, and organization level, is to appreciate the experiences we have had, agree on where we are now, and build on this empathy to explore what our future of work needs to look like.  Whether it is purely future-focused conversation or associated with some data that captures people's perspectives, we do need to be pragmatic about the time we have and the very act of exploring the future you need is key.
By creating a picture of the future we need, this will help you to form a powerful set of principles and scenarios that can guide your "partially remote" experience with the culture, strategy, and performance you need leading the way.  This will save time, strengthen our people's engagement, and improve business performance at a time we need every business performance as well as they possibly can.
Connect with us
Mapien have been working with hundreds of organisations and individuals through the business challenges we are all experiencing and finding ways to keep our future of work front of mind for today.
If you would like a copy of the image in this article that you can edit for use with your own timeframes and descriptions, please reach out to me on bredding@mapien.com.au and I can share a copy with you.
Contact our team of workplace strategists for any of your people management questions today and we will be in touch within 24 hours.